Hydrohex is a Finnish company with the goal to revolutionize the world of Aqua Fitness.
Nowadays everybody wants to be independent. Sports activities must be made easily accessible – from anywhere and at any time!
Hydrohex brings the solution in the form of virtual aqua fitness to public pools, hotels, spas, gyms and health centers.
Where we come from?
Hydrohex has already gained a foothold with virtual aqua fitness in Finland, Sweden, Austria, now expanding into Germany.
It all started with the idea to make water gymnastics more effective. This developed into a professional training plan, covering all body parts, with different levels of difficulty.
Finally, we decided to film the workouts above and underwater. Then Hydrohex was born.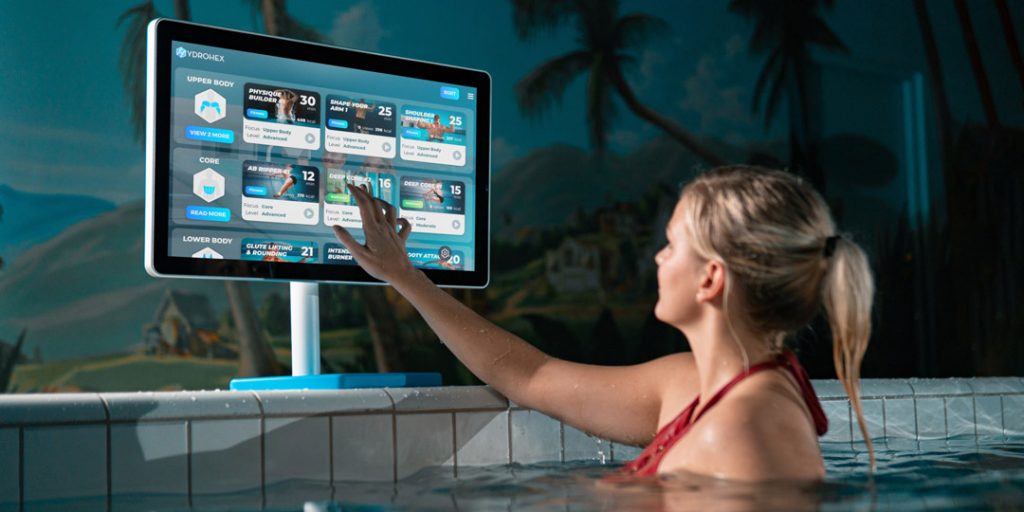 This is how Hydrohex makes Water fitness possible for everyone:
After the first contact, most of our clients have started a 12 month trial.
During this test phase, we'll support you with marketing and give simple instructions to your staff to operate the screen.
All training programs are stored on the screen and can be accessed by you or your customers. 
Hydrohex can be used without the guidance of a trainer. All in all, Hydrohex costs only 10% of what a fitness trainer costs per month.
In the best case, Hydrohex complements the already existing water fitness programs of your company.
What does a workout with Hydrohex look like?
The first step is to choose a workout. In the database, you will find exercises for stretching, endurance and muscle building. Just get inspired and try it out.
Once you have selected a workout, all you have to do is follow the instructions in the video. The high-quality underwater shots make it easy to master the correct techniques.
And that's it – well done! Ready for the next one?
Hydrohex – Aqua Fitness user experiences
Pool owners: For owners, Hydrohex is the perfect addition to the existing pool offer. The setup is simple. The screen you can rent is water-resistant and safe. The customer feedback is consistently positive.
Trainers: Fitness trainers are supported by Hydrohex. The video presentation makes it easier to guide the group during training in the water. The trainer can concentrate on the individual participants and give specific feedback.
Athletes: End users quickly become enthusiastic about Hydrohex. Different levels of difficulty make the introduction painless. Most of our workouts build on each other and follow a well thought-out training plan. Once you start, you can't stop so quickly!
Why virtual Aqua Fitness?
Virtual Aqua Fitness addresses two broadly relevant topics:
virtual workouts
training in water
The first has become a household name for everyone since the lockdown this year. Online, there is a boom in training programs that can be accessed via videos.
Hydrohex professionalizes virtual workouts and brings high-quality screens directly to the pool.
To the pool is the keyword, because there is nothing healthier than training in the water.
Water has natural resistance where joints are safe and muscles can develop in a protected way. This applies to older and younger people alike.
Furthermore, you do not sweat in the water!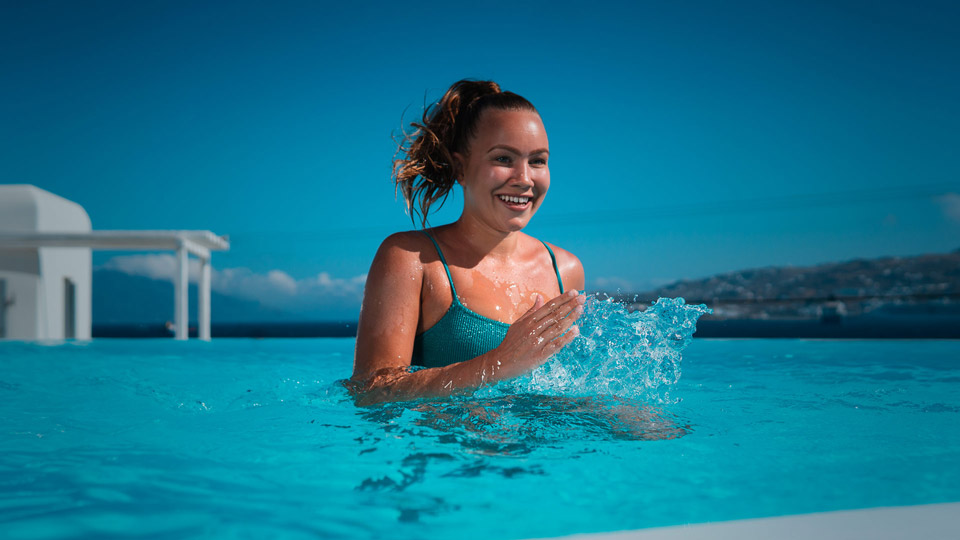 More than just water aerobics!
Hydrohex opens new possibilities for customers and users. Our workouts expand the range of activities in your pool and beyond.
For example, you can relax in the water after a hard workout with stretching exercises. Or you can directly dedicate yourself to a simple aqua-yoga-session followed by some sauna time. Even intensive workouts to build up muscles in legs and the upper body are always available.
How effective is Aqua Fitness?
Aqua Fitness is total body training. Sport in water gets the entire cardiovascular system moving! Aqua jogging, Pilates and swimming were just the beginning. Hydrohex takes sports in water to a new level.
The training programs of Hydrohex help you to:
Burn calories and lose excess weight
Stretch your body
Build up muscle
Train endurance
Our Aqua Fitness courses are aimed at the whole body. The underwater camera shots clearly explain even the most difficult exercises.
Especially for people who don't enjoy using common fitness equipment, Aqua Gymnastics is the perfect alternative.
And now?
Surely you still have questions or want to know more about Hydrohex and virtual aqua fitness.
At the moment we are working on a series of blog entries that deal with our workouts in more detail. We also invite you to get in contact with us personally!
If you want to try out Hydrohex just send us an email and we'll discuss all details together. We are used to adapting our service to the individual needs of each client.
To sum it up, here is an overview of the Top 5 Reasons to get started with Hydrohex. Enjoy!
Why Hydrohex? – 5 reasons to bring Virtual Aqua Fitness to your pool
Member loyalty is increased with Virtual Aqua Fitness: New services increase the frequency of visits and member retention. Especially Hydrohex gives reason to stay and come back!

24 hours / 7 days a week – Hydrohex is always available: Virtual services are not subject to schedules. Aqua Training is perfect to fill the off-season with offers!

Our customers are satisfied: Pool owners say that customer satisfaction is the main factor that led them to the decision to offer Hydrohex and Aqua Fitness in their pool.

Opening up new markets: Offering virtual services increases the attractiveness of your facilities, especially for people who cannot attend live courses.

Cost-effective addition: Hydrohex does not require personal attention. It's the perfect alternative to your existing program. Traditional water gymnastics and modern fitness exercises combine with Hydrohex.
If you'd like to discuss matters with us in detail, head over to our contact page!