KRISTINESTAD'S SWIMMING HALL
The swimming hall in Kristinestad has for a long time functioned as a living room in the municipality. In addition to the regular visitors, the swimming hall has also been used regularly by schools and swimming schools, among others. Just over a year ago, the municipality's Operations Manager for sports and indoor swimming pools, Anders Wahlberg, and his staff in Kristinestad's indoor swimming pool decided to try something completely new. 
This was the start of how Hydrohex took its place in the municipality's swimming pool. A little over a year later, the virtual aqua fitness service is seen as an added value and according to Wahlberg, the swimming pool can now offer workouts for the customer exactly when they want it. The service has also been received with open arms by the swimming pool's visitors. This is also clear from the amount of over 3000 training sessions. 
"It is clear that several people are now coming to the swimming pool for the purpose of working out with Hydrohex"

Anders Wahlberg
To acquaint customers with the new service, the staff played an important role. They provided information about Hydrohex and showed the customers how they could work out by themselves. Today, the swimming hall in Kristinestad has a place for the screen where it is running every day. Based on the experience, Wahlberg believes that the service has created added value that benefits public health.
– At first, we had to test it out ourselves a bit, but quite quickly the visitors found Hydrohex. In addition to this, we have marketed Hydrohex, for example in the local newspaper. We now have more satisfied customers thanks to Hydrohex. Some new activities now and then are welcomed in this industry, says Wahlberg
KASNÄS
In Kasnäs, Hydrohex has also cemented itself as added value. The virtual aqua fitness service made a positive impression on hotel manager Tanja Liljeqvist when she visited Holiday Club Caribia in Turku. When she received an e-mail regarding Hydrohex, she did not hesitate for a second. 
– I like to work out myself and Hydrohex offers a new, modern, and fresh way of working out, which allows visitors to work out exactly when it suits them. Thanks to Hydrohex, we can always have an instructor on site. The clear videos also make it easy to perform all movements. We also see it as a step in the right direction regarding sustainable development, everyone on the staff is very satisfied, says Liljeqvist.  

In Kasnäs, the training station is used both indoors and outdoors. In winter, the screen solution has a place by the Olympic pool, where the customer can come and work out when it suits them. In addition to this, Kasnäs uses the scheduling tool, where they schedule group training sessions.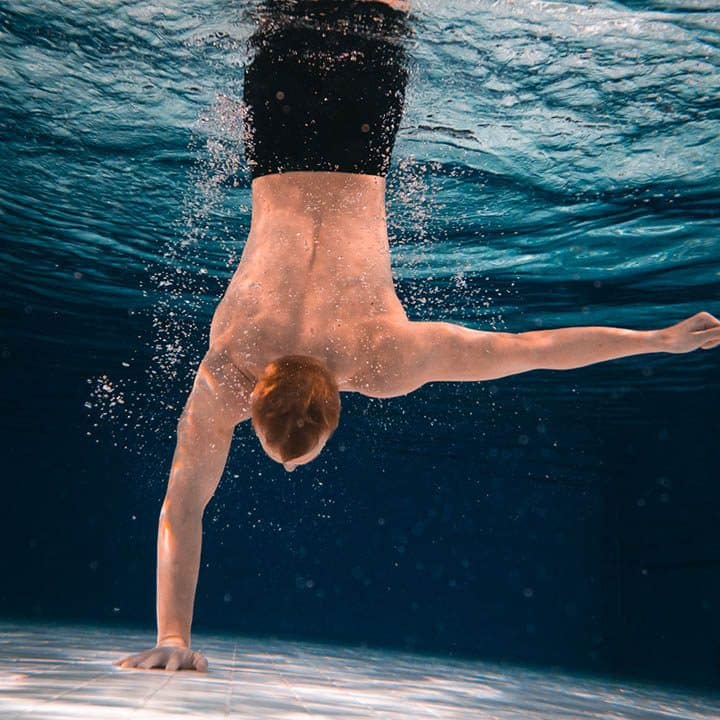 Among visitors, Hydrohex has also been well received. Just over a year ago, when Hydrohex was launched, Kasnäs focused a lot on marketing the service. This is something Liljeqvist recommends doing to its fullest. By always having the screen on, Liljeqvist also believes that the service markets itself and is then easily accessible. Although there were initially some skepticisms among the customers, especially the elderly, Hydrohex is today an incredibly good addition, not only according to the staff but also according to the customers. According to Liljeqvist, it is not only the swimming hall that benefits from the offer, but also schools and the local swimming association KSF Dolphins.
– With Hydrohex, everyone can work out and take care of their well-being when it suits them. I only have positive things to say about the service. We created information letters, posts on social media, and other physical marketing material. In addition, the staff served as a driving example by showing the customers what Hydrohex has to offer, who of course were curious about what virtual aqua fitness means, says Liljeqvist.
EKENÄS SWIMMING HALL
Positive things about Hydrohex are also heard from sports instructor Julia Salmela in Ekenäs swimming hall. Initially, the swimming hall only used the On-Demand mode, which allows the customer to choose a workout session exactly when it suits them. Since the beginning of 2022, Ekenäs indoor swimming hall has also implemented virtual group training sessions.
According to her, Hydrohex is best implemented by having the screen solution by the pool as much as possible. In addition, it is good to have a committed staff that markets and shows what it has to offer.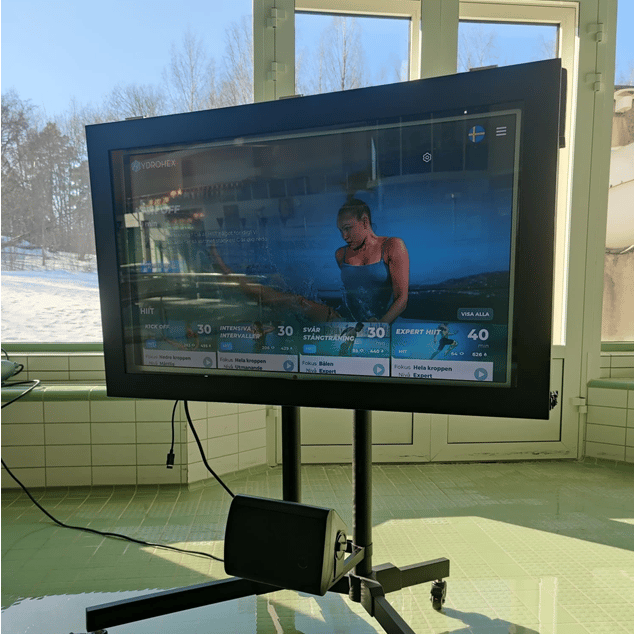 – Of course, there are always those who are uncomfortable accepting changes. It is still important to try new things and we did this by showing the swimming hall customers what Hydrohex is and how it works. This way added value is quickly created. Thanks to Hydrohex, the threshold for working out is also much lower, as the customers can come and work out when it suits them, says Salmela.
With swimming schools, associations, and schools, Ekenäs swimming hall is properly booked, but this did not create any major problems. They got Hydrohex well implemented by reorganizing the schedule. Today, Ekenäs swimming hall uses Hydrohex every day. On-Demand mode is turned on in the therapy pool every day, while the virtual group workouts are introduced as a complement to other group workouts. 
Hydrohex became so popular in Ekenäs swimming hall that the customers even started a name collection in the changing rooms when the trial period was about to expire. The decision to keep Hydrohex-services in Ekenäs is also something the staff does not regret and Hydrohex has, according to Salmela, attracted more people to the swimming hall, especially those who want to work out.